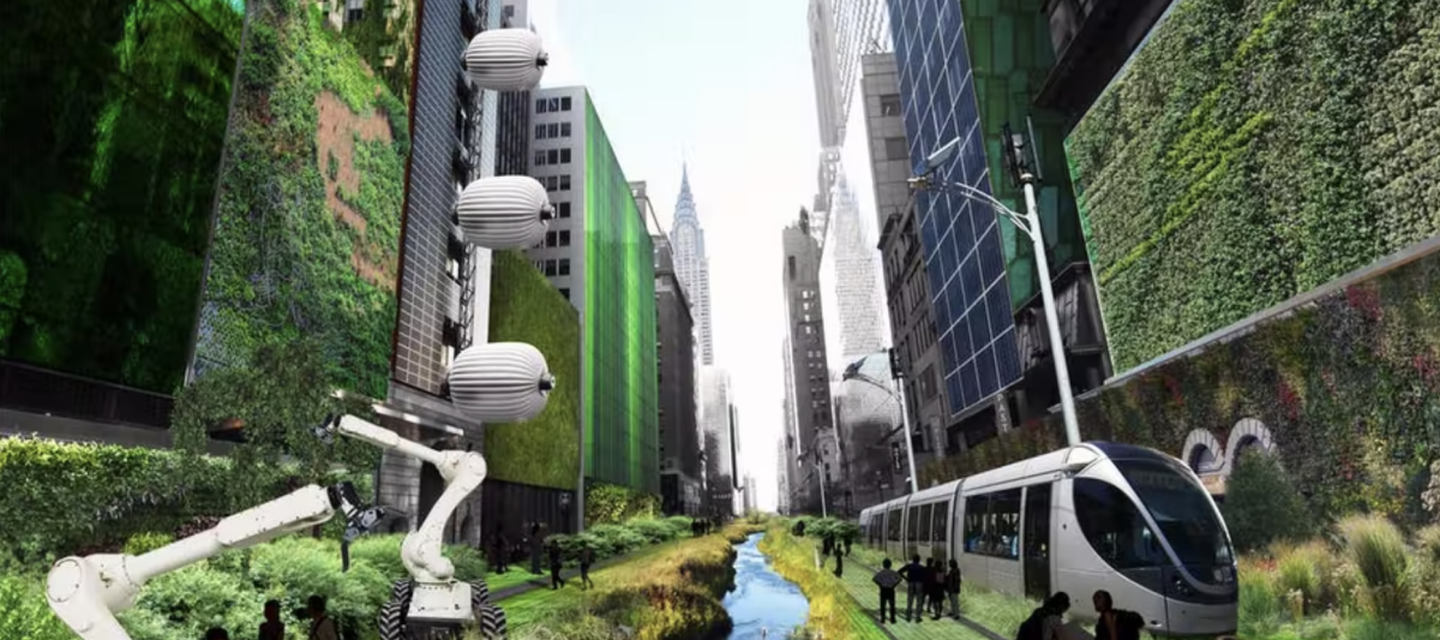 Learning Community Urban Interaction Design
Imagining the Unimaginable
How can speculative design be used to understand citizen perspectives and help make more informed urban planning decisions for the technologized city of the future?
Over the past decade, technology has radically changed everyday urban life. Now, no one leaves home without their mobile phone in their pocket – their portals to the online world of information and social contacts. New technologies are constantly being designed and applied in the city. Governments and tech companies have started collecting all kinds of data about urban life, ranging from air quality to traffic congestion to citizen movement. And now, software can organize city life just as well as the program of urban planners. These technologies are being implemented into the urban environment without us knowing exactly how they will affect the people and their environment. But, we do know that they are already having a major impact on our behavior and how we interact with each other.
How can we give more direction to (future) use, design and applications of new technologies in public space, so that we can be less surprised by unintended consequences? How can we develop and visualize/design such scenarios and make them experienceable so that they can better communicate possible futures and contribute to the social debate about technologies in public space?
Join us for a program of speculative thinkers, urban planners and engaged citizens alike to discuss these topics, and explore how we can plan our future better, together.
About the speakers
Alice Haugh is an architect, urban designer and strategist specialised in the future of cities. Originally from London, she is currently based in Amsterdam where she leads the work on social equity in the built environment at Laudes Foundation, a philanthropy tackling the dual crises of inequality and climate change. She believes innovation, reform and collaboration can create a regenerative and inclusive built environment that prioritises decarbonisation and wellbeing for all. Prior to this Alice was Strategic Design Lead at Space&Matter architects for two years, leading a research and consulting team dedicated to identifying new approaches – from structural relationships to supply chains – to transform cities into circular economies. Prior to this she spent two years as in-house futurist at UNStudio architects, helping clients to set better briefs for buildings and neighbourhoods in the Netherlands and abroad.
Tessa Steenkamp is an interaction designer and urbanist. With her design studio Bits of Space, Steenkamp gives shape to the relationships and interactions between people, technology and built environment. This is necessary, because the digital and physical have long since ceased to be parallel – and often even get in each other's way. Previously, Tessa set up 'OpenStad' at the municipality of Amsterdam: a programme for online tools for a more interactive, local democracy. She also worked as a designer at Umbrellium in London, and was an experience designer at UNSense, the technology startup of architecture firm UNStudio.
Troy Nachtigall is head of the Wearable Data Studio and Professor of Fashion Technology at Amsterdam University of Applied Sciences. Together with a group of cutting-edge researchers, the Wearable Data Studio looks deeply into how fashion is made and worn.  The group makes tools and toolkits that help Fashion and HCI professionals use data as a material.
Tomo Kihara works at the intersection of play, technology, and society, as an artist, designer and a developer. He creates playful interventions and toys for thought that provide a new perspective to complex socio-technical problems in an engaging manner. He holds an MSc in interaction design from TU Delft (NL) and has worked and collaborated with organizations like IDEO, Waag, Mozilla Foundation on several design projects.
Gabriele Ferri's research practice is at the crossroads of critical design, community initiatives, and playfulness. His speculative games use (among others) furry robots, time-travelers, and alpacas as props for engaging people from all walks of life to imagine desirable and undesirable futures. He directs the Master Digital Design at the Amsterdam University of Applied Sciences, where he has taught Design Futures and Design Ethics. He is concerned about the future of our cities and, occasionally, his own.
Marjolijn Ruyg is a designer, researcher and lecturer. She is Senior Lecturer of the Learning Community Urban Interaction Design at the Amsterdam University of Applied Sciences. She has a bachelor degree of Graphic Design from Gerrit Rietveld Academy and a master degree (MSc) of Media Technology from Leiden University. From the early nineties she worked as interaction designer on several new media projects (e.g. The Digital City Amsterdam, Ars Electronica Austria, Stedelijk Museum Amsterdam).
Mitchell Samuël Gordon is a Surinamese fiction writer who specializes in short story thrillers with horror elements and religious themes. He works as a software tester in the IT world, but his heart is in writing. At primary school, he discovered his great love for it. It started with poems, but soon changed into fantasy, science fiction and thriller stories. His goal is to become a pioneer within the thriller genre in the Netherlands with the book that he is working on.
Zeger Schavemaker is a Future Mobility Designer at the municipality of Amsterdam, Innovation Manager & Expert Ad-visor at the Traffic Management department. He is initiating and developing new visions and strategies for Amsterdam such as Mobility Center of the Future, and Innovation Center for Digital Mobility Management.
Jorik Elfernik (moderator) designs and facilitates learning experiences for education and business. His focus is on human connection and bringing different perspectives to light. Jorik is co-founder at WOW Academy, co-author of The Empathy Game, co-founder of Treehouse Tribe co-working and curator for Toolbox Toolbox.