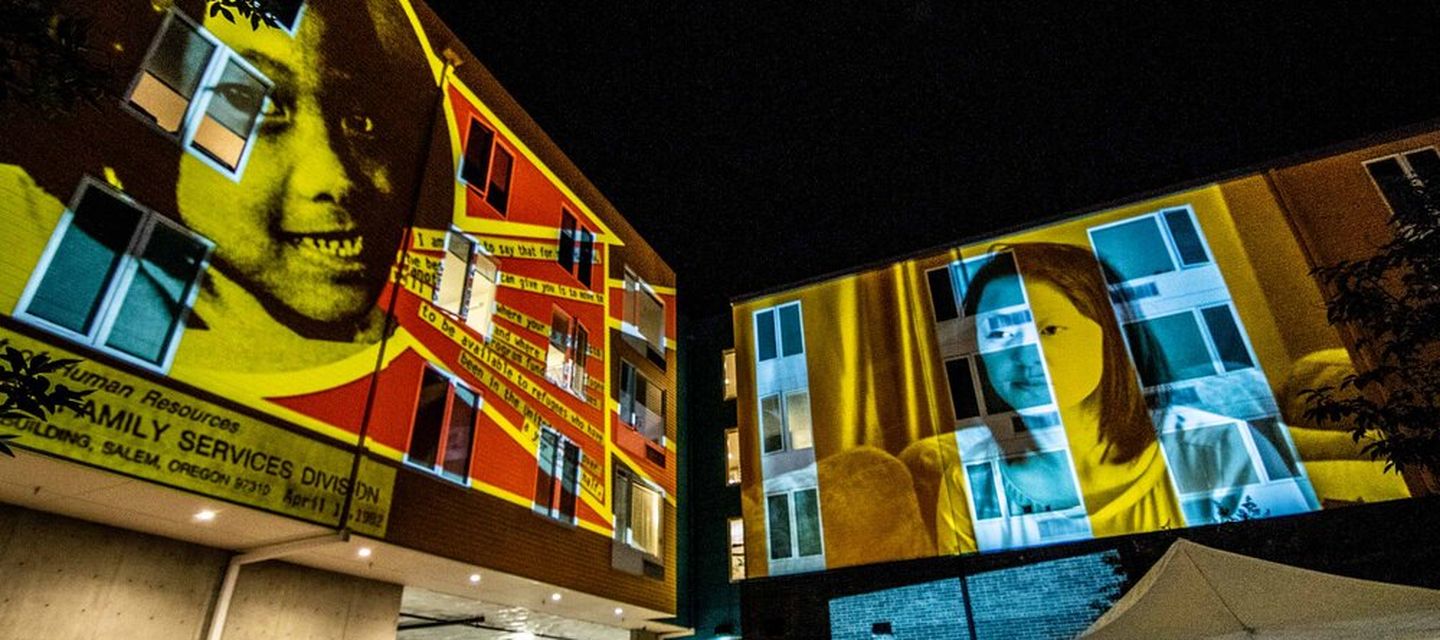 The Aesthetics and Affordances of Massive Media
What happens when a building becomes a screen?
What are the critical and creative possibilities of large-scale public projections, urban screens and media architecture, and the technical and social networks connected to them? We analyze the role that 'massive media' can play in practices of monumentality, public art, and digital placemaking and placekeeping.
Dave Colangelo's The Building as Screen: A History, Theory, and Practice of Massive Media (Amsterdam University Press, 2020) describes, historicizes, theorizes, and creatively deploys massive media – a set of techno-social assemblages and practices that include large outdoor projections, programmable architectural façades, and urban screens – in order to better understand their critical and creative potential. Massive media is named as such not only because of the size and subsequent visibility of this phenomenon but also for its characteristic networks and interactive screen and cinema-like qualities. Examples include the programmable lighting of the Empire State Building and the interactive projections of Montreal's Quartier des spectacles.
This panel considers how massive media might enable and necessitate the development of new practices of expanded cinema, public data visualization, and installation art and curation that blend the logics of urban space, monumentality, and the public sphere with the aesthetics and affordances of digital information and the moving image.
About the speakers
Dave Colangelo is an artist, educator, and researcher based in Toronto, Canada. He is a founding member of Public Visualization Studio. He is Assistant Professor of Digital Creation and Communication in the School of Professional Communication (FCAD) at Ryerson University, and Director, North America, of the Media Architecture Institute.
Sarah Turner is an artist, new media curator, creative producer, and art director based in Portland, OR. Sarah is the co-founder and Artistic Director of the Mobile Projection Unit (MPU) with Nanda D'Agostino. MPU is funded in part by the Regional Arts and Culture Council, Precipice Fund, The Andy Warhol Foundation for the Visual Arts, and the Calligram Foundation.
Gabriel Menotti is Assistant Professor at Queen's University's Film & Media Department. He works as a curator in the fields of cinema and digital/new media. His most recent publications are the anthology Practices of Projection: Histories and Technologies (Oxford University, 2020 – edited with Virginia Crisp) and Movie Circuits: Curatorial Approaches to Cinema Technology (Amsterdam University Press, 2019).
Event times in international time zones
– 17.00 – 18.30 CET
– 16.00 – 17.30 GMT
– 11.00 – 12.30 EST